A shift rotation is a collection of day codes that will make up an employee's work schedule.
Shift rotations can define the rounding rules that govern punches that fall between the shift start and end times, weekly or bi-weekly overtime, holiday rate of pay etc..
▪Select the Config menu.
▪Select the Setup menu.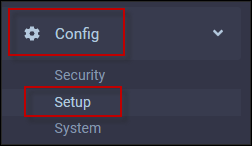 ▪Select Shift Rotation.
Create Shift Rotation
To create a new Shift rotation, click on the Plus icon.
This will add a new line to the bottom of the left-side grid.
▪In the Code column, enter the code for the rotation.
▪In the Description column, enter a description for the rotation.
▪Click Save.
The Employee column will populate automatically as employees are assigned.

To complete the setup select each tab and populate the required options.