The Mange Discipline screen allows you to view all employees who have incurred a specific infraction within a selected number of days.
You have the option email notification(s) to employee(s) regarding their discipline.
A print function is available should you need to notify an employee with a written notification.
▪Select the HR Tools menu.
▪Select the Manage Discipline menu.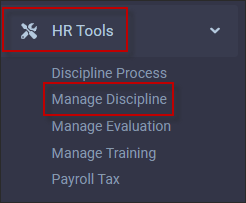 The Manage Discipline screen will display.

The Discipline Code window provides a list of the disciplinary actions configured. I.e., Verbal warning, Written warning etc.
To select which Discipline Code to view:
▪Click on the Discipline Code window.
▪On the drop- down, click on the code
In this example Discipline code 1 Verbal Warning (D1VW) has been selected.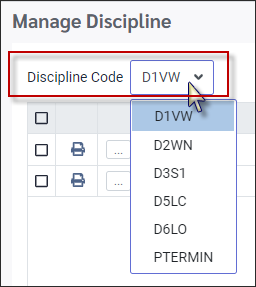 To set how many days backwards to display:
▪Click in the Days window and enter the number of days back.
▪Click on the Apply button that is now highlighted.

The following screen will appear showing which employees have incurred this code.
You can increase the number of days into the past to a maximum of 99 days to display more discipline history.

Detail Button
▪Click on the Action List icon

of the highlighted line.

This displays a list of the actions taken and the employee's acknowledgment.
Printable Notification
The printer

icon will allow you to view and print a discipline note to give to the employee.
Notify by Email
Using the Notify icon (envelope) you may send an email notification to one or more employees.
To select one employee, click on their line and click the Notify icon.
To select multiple employees, click in the check box. Those lines will be sent email notifications.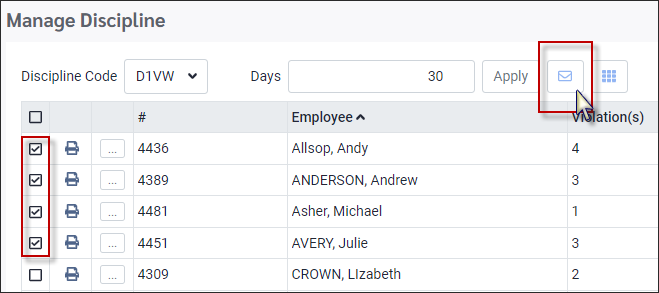 ▪Click the email option (envelope icon) to notify the highlighted employee by email of the discipline occurrence.
The system will provide a confirmation that the email was sent.

Sample employee email: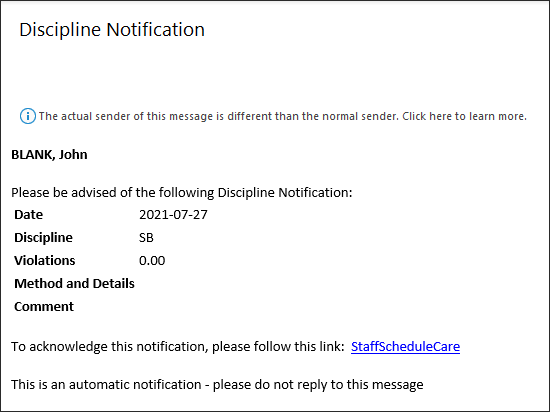 The employee must click on the StaffScheduleCare link to acknowledge they have received the email notification.
When this is done, the system will update the discipline with the acknowledgment.