The Shift Give Away feature works the same as Shift Exchanges for manager approval or denying.
This feature must be configured before using. Please contact your StaffScheduleCare Client Care Team for assistance.
Manager Approval
Access can be done either through the Shift Exchange widget on the Welcome menu or by using the Requests module.
Shift Give Away functions the same as Shift Exchanges. The Give Away cannot be processed until the request has been accepted.
▪Select the Requests menu.
▪ Select the Shift Exchange Requests menu.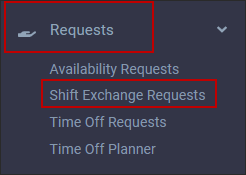 ▪Click on the request to highlight it.
Notice that the Status is New, and the Acceptor has accepted the shift. The details of the request are displayed in the right panel.
▪Click on the Actions icon.
▪ Select Process Request.
▪On the Process Request screen, click on the drop-down arrow to get the processing options.
▪Select Approved, the system will automatically update the Active Schedule for both employees.
Hover over the arrow on Miro Miro's schedule for the hint that this shift was a Give Away.
Deny Shift Give Away
If Shift Give Away has been setup for manager's approval, the manager not only can approve but also deny a request.
A manager can deny a request by selecting the Denied option on the processing drop-down.
When the employee logs into their requests they will see the status Denied. Both the Requestor and the Acceptor will receive emails notifying them the request was denied.