A Task is a specific job function that you may want to assign on the schedule to define exactly what the employee should be doing. The unit is where they work their shift
Please note access to the configuration screen is based on your system security access rights.
▪Select the Config menu.
▪Select the Setup menu.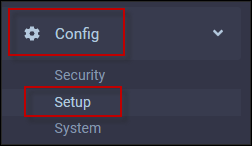 ▪Select Units and Tasks.
The Units and Tasks configuration screen is displayed.