Before beginning the process of scheduling training courses for your employees you must ensure that the Training Code assignment lists are defined.
You may set the types of training, who the trainers are, what the course subjects will be and the locations. This information will be included in the notification emails sent to employees.
Please note access to the configuration screen is based on your system security access rights.
▪Select the Config menu.
▪Select the Setup menu.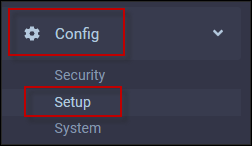 ▪Select Training Setup.
Defining Code Assignment Lists
Training Setup allows you can configure type, Trainers, subjects, and locations. For configuring Skills See Skills Setup.
ADD New Code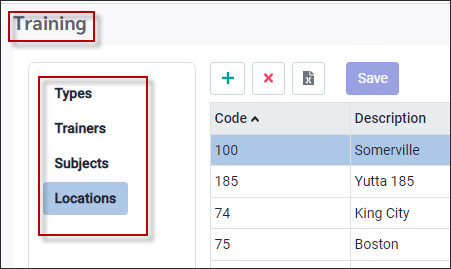 The steps to Add a new line in all of the Training assignment is the same process.
▪Select the Plus icon to add a new record.
The new line will display at the bottom of the grid.
Enter the Code and Description.
▪Click Save.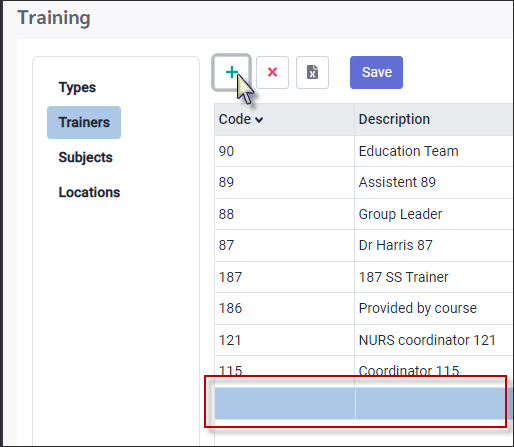 Continue adding your codes for Types, Trainers, Subjects, and Locations until all needed codes have been added.
Your code lists are now ready to be used when booking training classes.
Delete a Code
▪Click on the line so it is highlighted blue.
▪Click the X icon.
A warning pop-up will appear. If you wish to continue, click on Yes.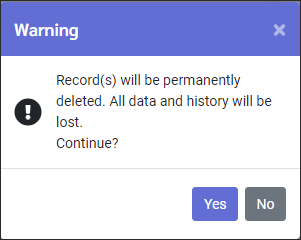 A second warning to remind you that this code may be in use in other areas of the software.
If you are certain this is not the case, continue by clicking on Yes.