This feature will set a date for all employees to view their schedules up to. If the Active Schedule has been completed to June 1st and the scheduler is working on July, however, is not ready to publish to the staff the date of June 30 is used. This will restrict viewing up to June 30 while the scheduler completes July.
▪Select the Schedules Tools menu.
▪Select the Update Posted Date menu.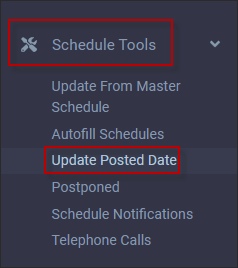 This will take you to the Update Posted Date screen.
Update the Schedule Posted Date
In the Select Posted Date field use the calendar option to enter the last date the employees should be able to see their schedule.
Select the Process icon to set the Posted Date for all employees. See Saving Settings below for filter options.
The new Posted Date is published is on the Personnel screen.
In this example, the Active Schedule has been updated to March 31 with the employee's view restricted to February 4.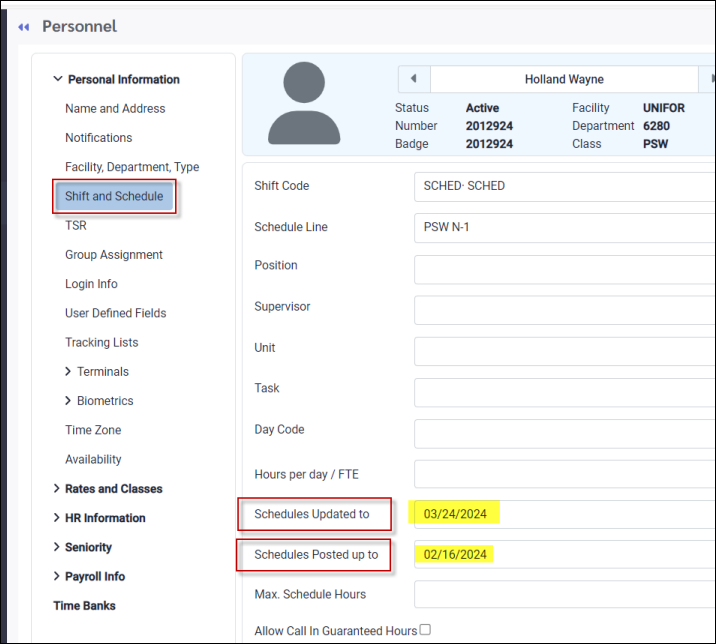 Saving Settings

You may use the Filter option to update a specific group or individual.
▪Click on the Filter icon and set the filter and Save. Now that a filter has been applied, then Filter icon will be blue.
▪Click on the Details tab to return to the main screen.
▪On the Detail screen, click on the Process Icon to perform the update.
In the example below only the employees in the Dietary department will be updated.
Use the Save Report Settings option the save your filter settings to be used again.

In the Description field, enter the setting name. In our example we are naming this Dietary Department Only.
Click Apply to close and save.

To use this setting again, click on the down arrow beside the file folder icon, Open Report Settings.
Click on the setting.