time and attendance reports
For toolbar icon functions please see Reports Functions Overview.
ACA Report
This report will show you which employees have worked enough hours to meet the Full Time Threshold. Generally used for reporting to the IRS about the available medical plans for Full Time Employees.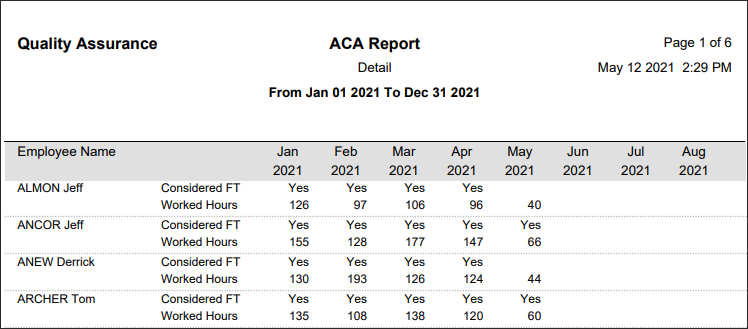 Accumulated Seniority Report
This report shows an employee's Seniority history (Worked Hours + YTD Seniority Hours) and a breakdown of hours earned during the pay period being reported on, by week, including a column for Overtime and Total Earned for the period requested and their new historical total.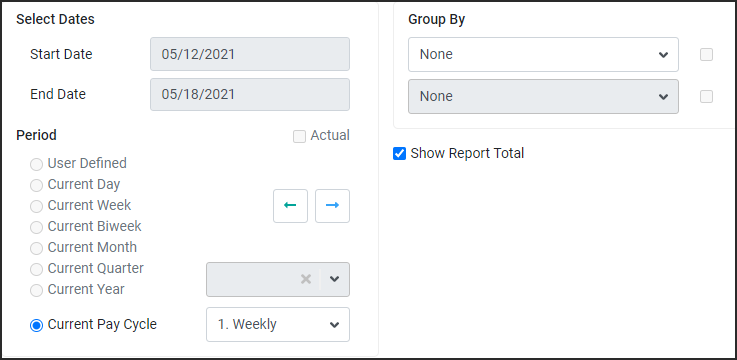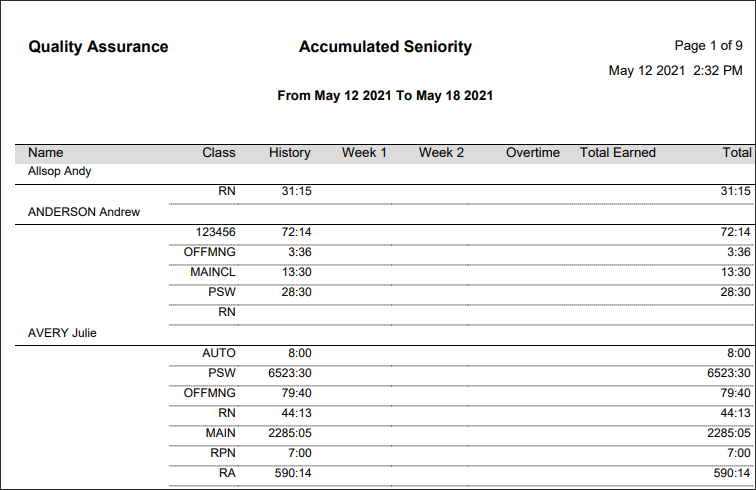 Activity Exception Report
This report is most commonly reviewed by the supervisors for exceptions and/or time discrepancy and will provide you with detailed information regarding:
•The type and total of hours worked (Regular, Overtime, etc.).
• Punches.
• The Exception codes (if any), attached to those hours (in late, out early, etc.).
• Departments worked (transfers).
• Comments regarding the day's hours/exceptions (if applicable).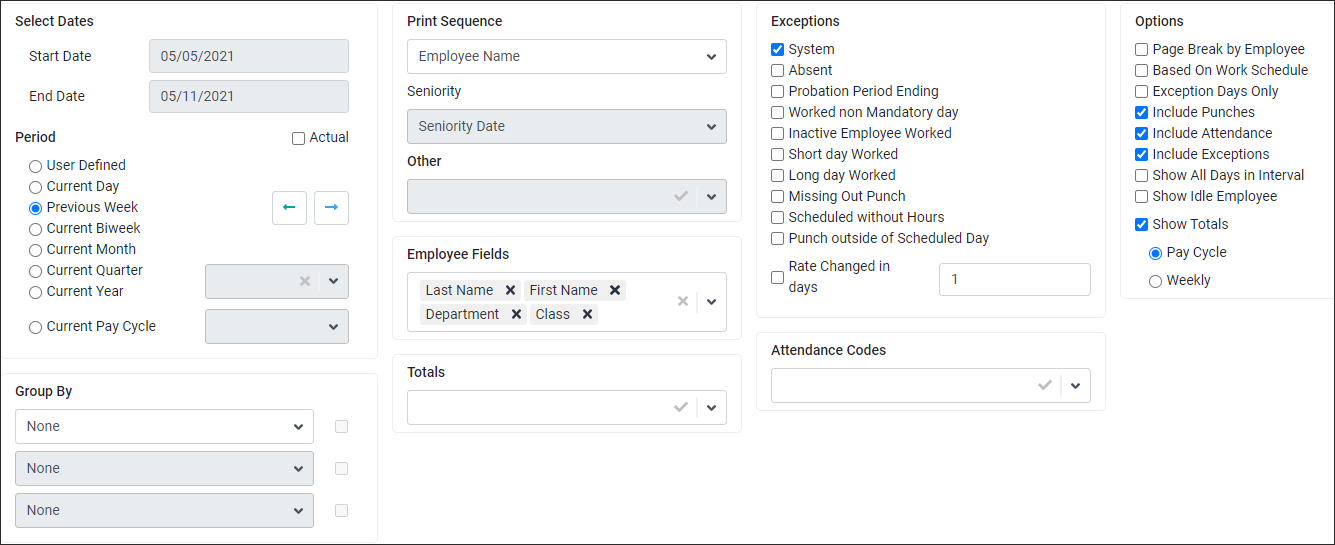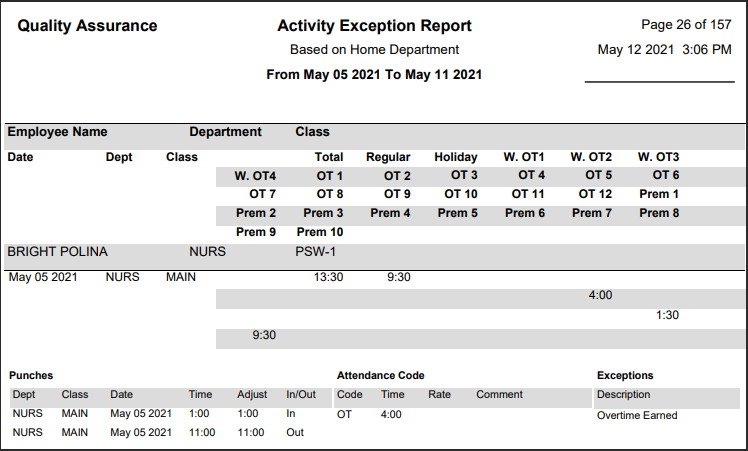 Approved / Reviewed Exceptions Report
This report provides a listing of employees in one of the following categories by date: not Approved, not Reviewed, Supervisor Weekly Approved Status, Supervisor Weekly Reviewed Status, and Kicked Back edits.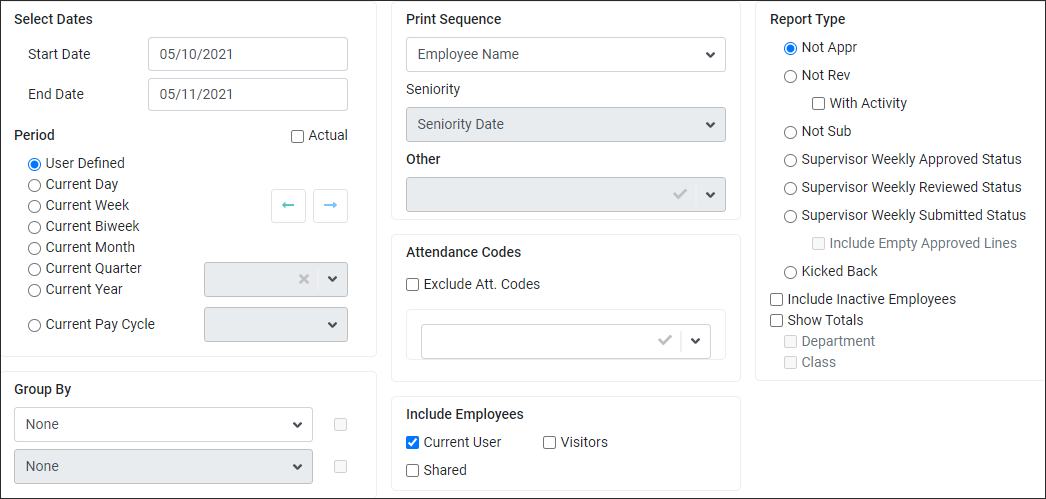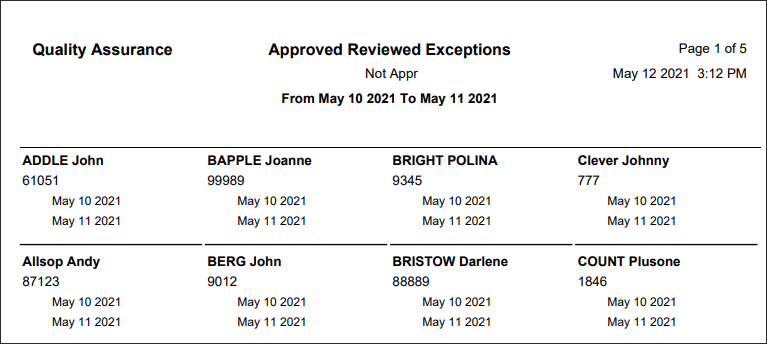 Daily Department Summary Report
This report is run for a single day and provides a summary and average of hours worked by department for the day being reported on. It will also display the # of employees who punched and/or worked (had hours).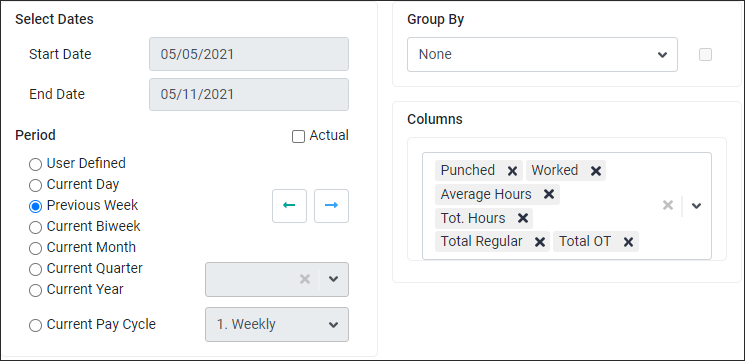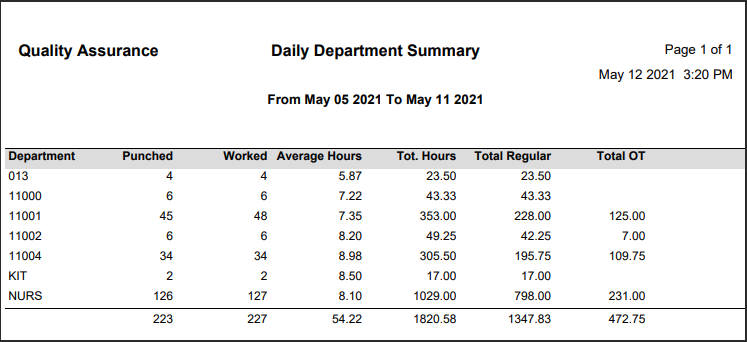 Daily Lunch List
This report contains a list of all employees scheduled for the day, a count of employees within the Department, their Shift Start and End times (in chronological order), and columns to enter/track the Out/In times of their lunches.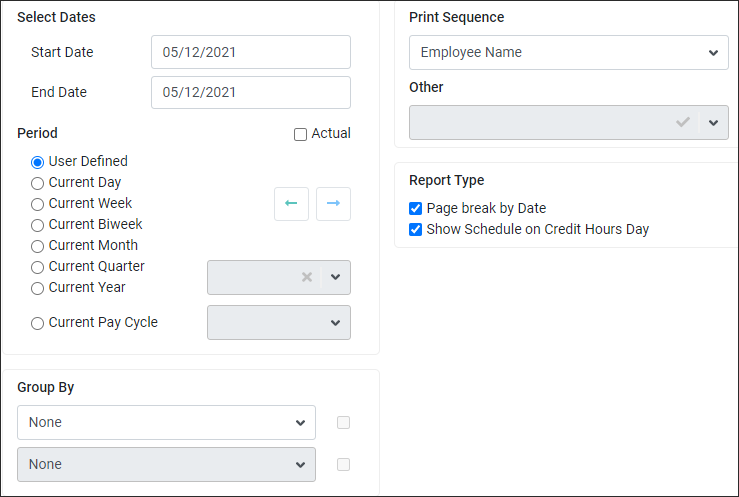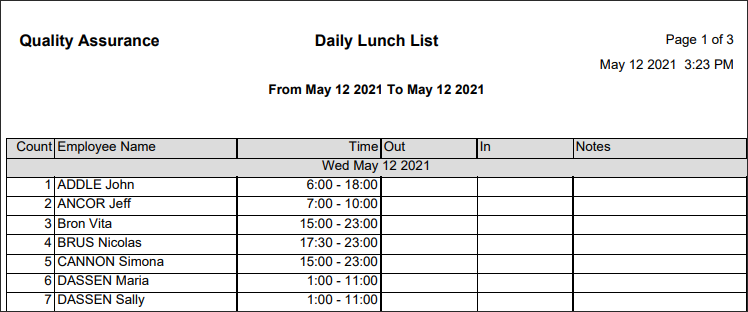 Daily Time Report
This report is a listing of employees In and Out punches for the day and what they were adjusted to. The report can be run to include Only exceptions, Holiday time, As Worked time, Employee with Activity Only, and Selected Attendance Codes. It can also include some System Exceptions such as Scheduled w/o Hours, Missing Punch, Short Day Worked, etc.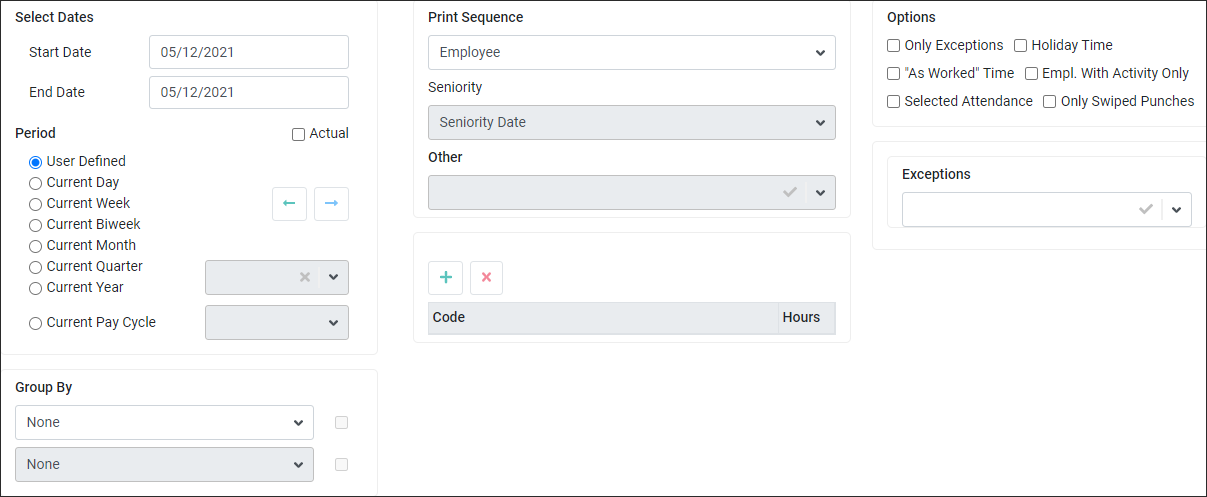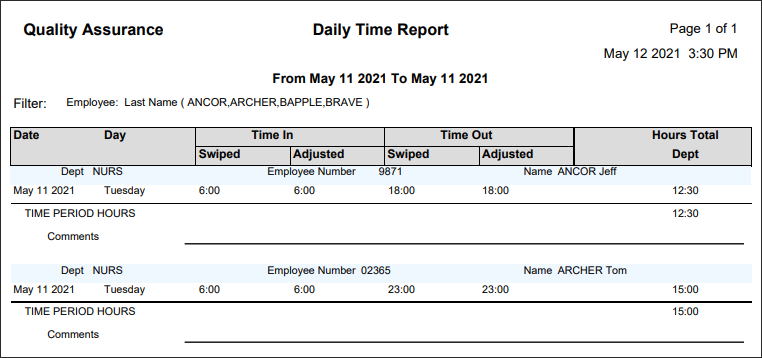 Labour Class Report
The Labour Class report is a detail report which breaks down employee's hours by worked class.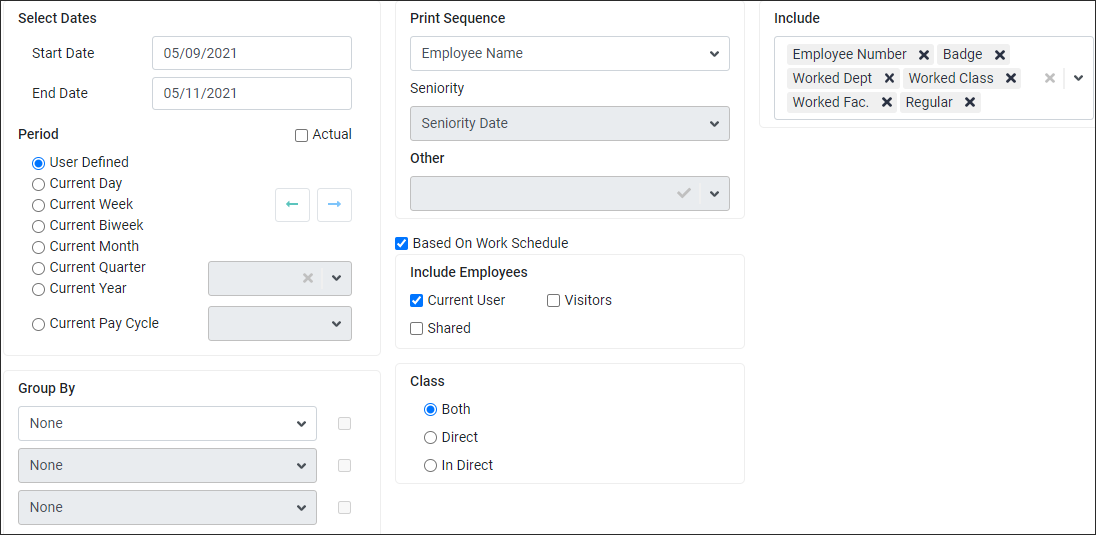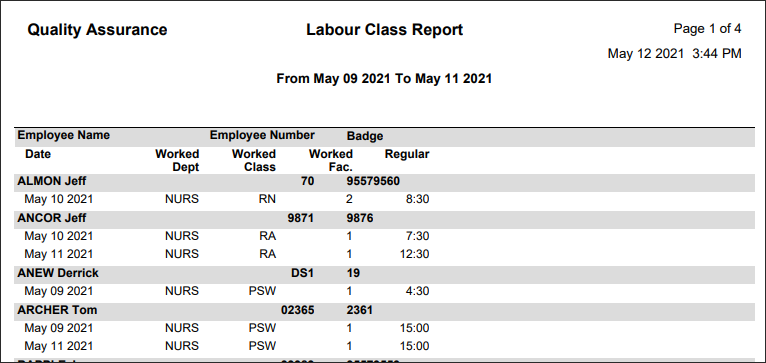 Last Day Worked Report
This report will identify the last day an employee worked and can be run to include inactive employees and/or filter by Status to report on inactive employees only.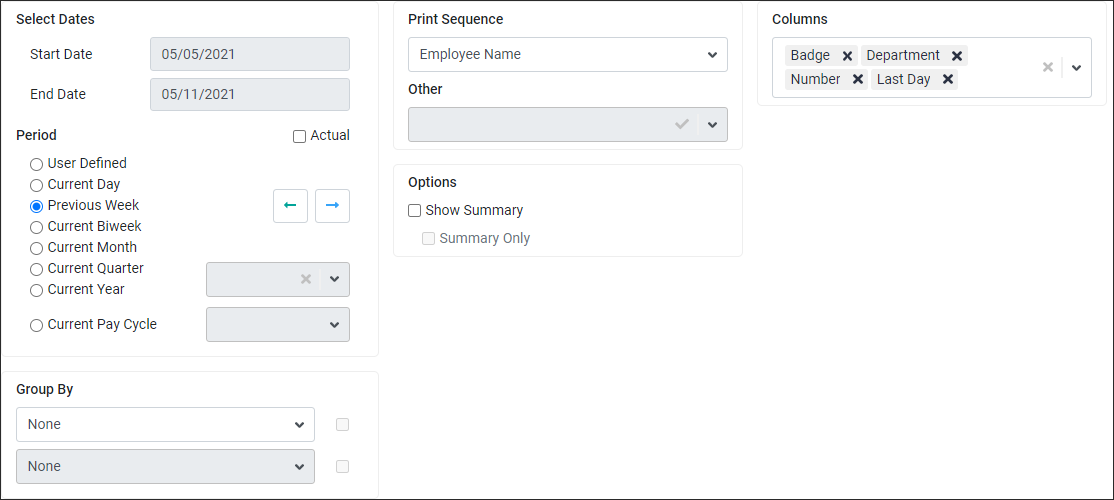 Manual Employee Time Sheet
The Manual Employee Time Sheet is used to show any Attendance events and scheduled hours an employee has. It can also be used for the supervisors to make written comments on that in turn can be used by the payroll department. when editing Time Cards.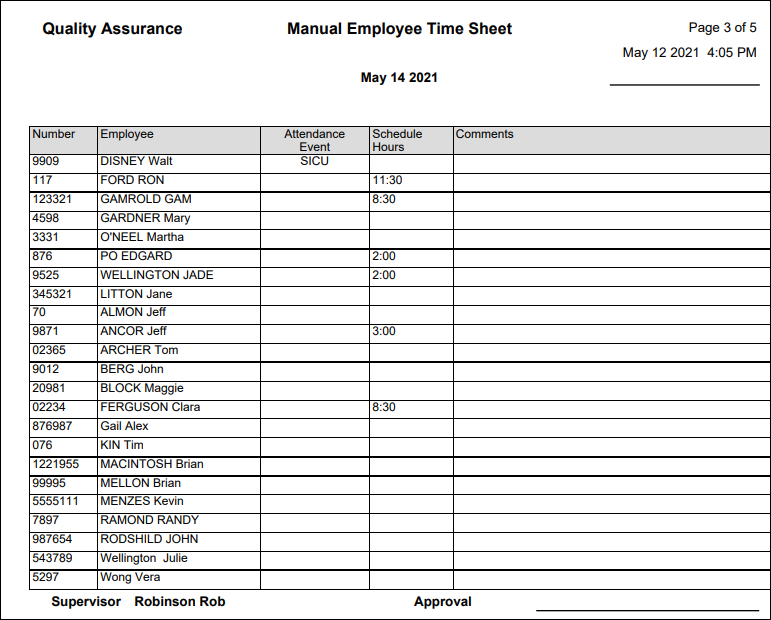 Missing Employee Report

No Time / No Activity
This report will show a list of employee names who do not have any activity on theirTime Card. You can choose what is defined as no activity by Hours, Attendance Codes or Punches.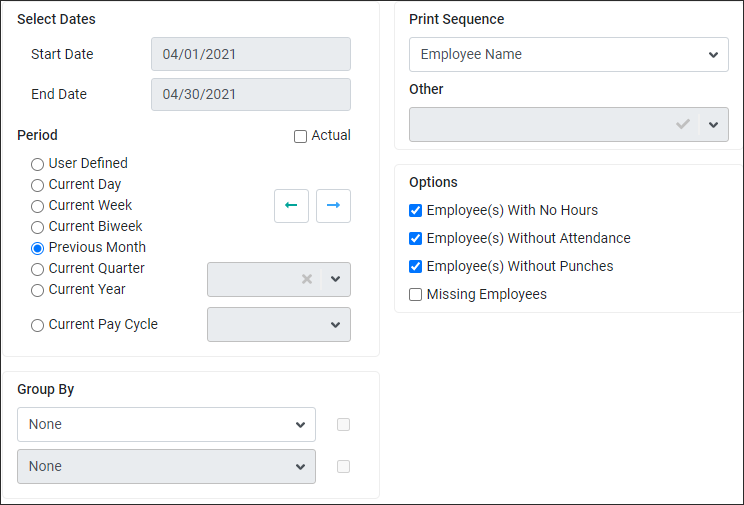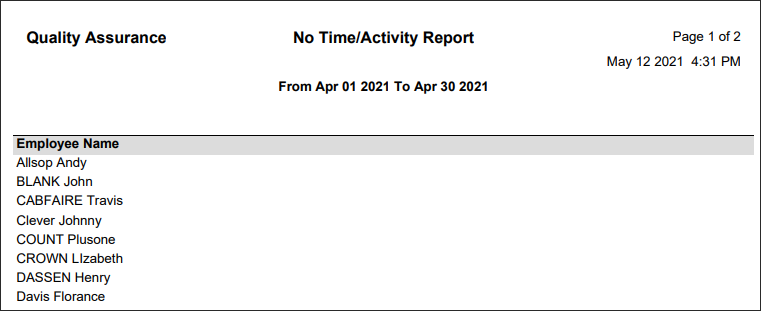 On / Off Premise Report
This report can be run four different ways, 1) Last Punch is an IN punch (On Premise), 2) Last Punch is an OUT punch (Off Premise), 3) Any punch at all is present and 4) Scheduled with No Punch (flagged as Absent).
This report can also be run based on Worked Dept. as opposed to Home Dept.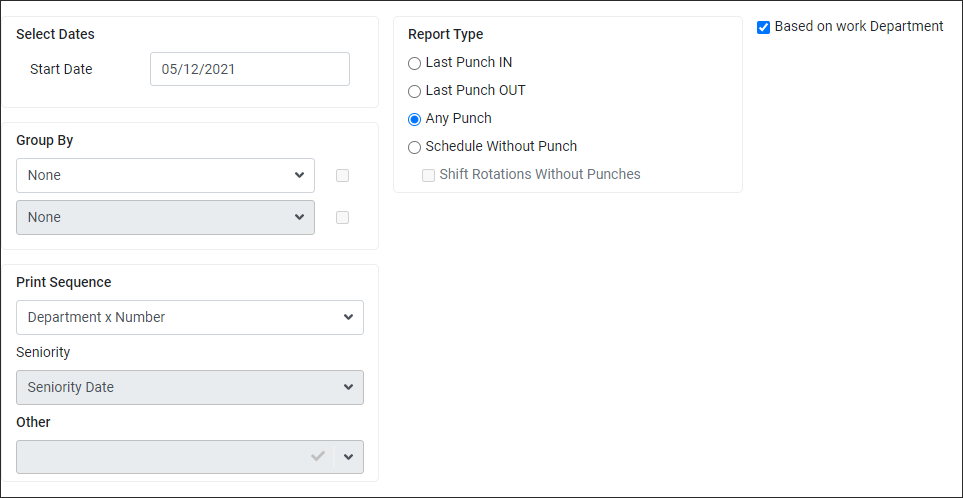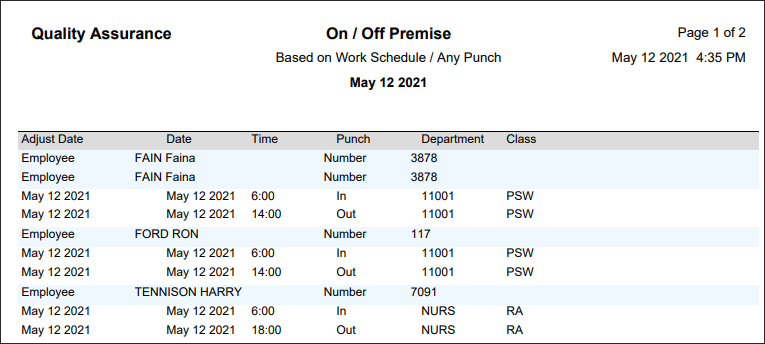 Pay Cycle Earnings
This report was designed to run by pay cycle or month, and provide information about employee hours based on type, i.e., FT and PT, using thresholds of hours, e.g., FT worked less than 80 hours or PT worked greater than 60 hours. The accuracy of this report requires specific configuration when run.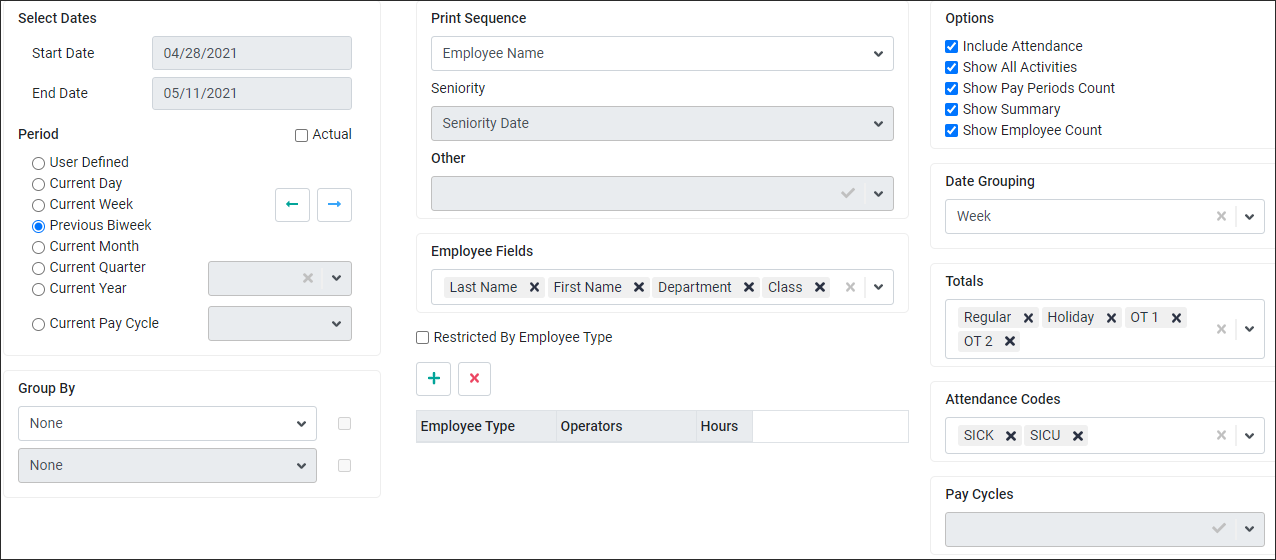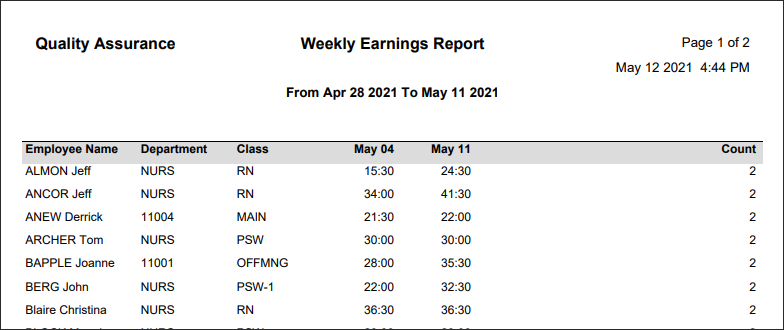 Payroll Summary Report
This report will show you the total hours an employee has been paid and the amount they earned. It can also show the pay code that is associated with those hours.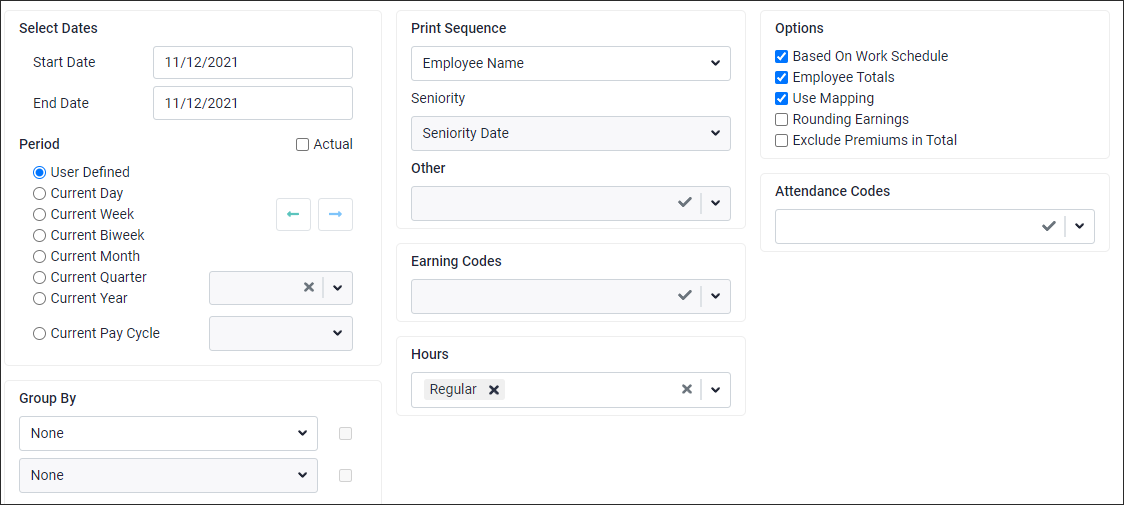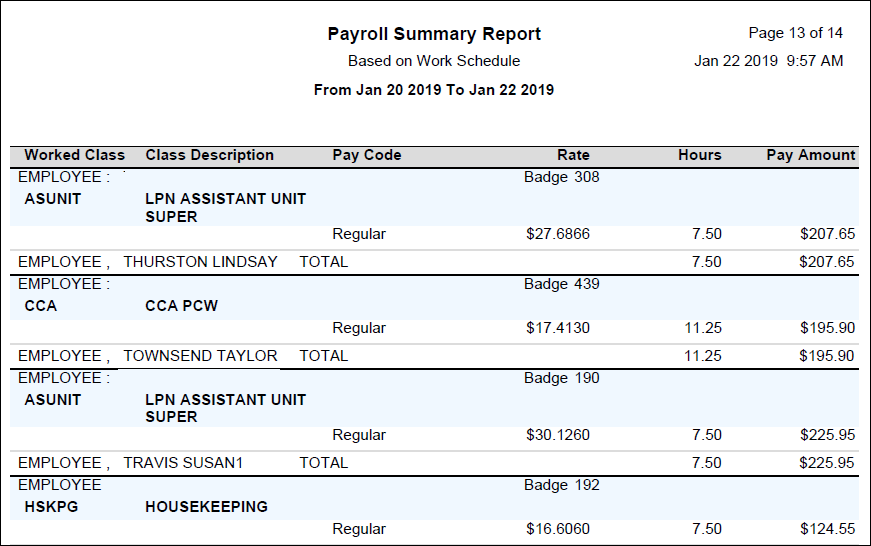 Payroll Transfer Report
Using User Defined columns, in either a Detailed or Summarized version, this report allows you to view pay periods hours only (no punches) before exporting to your payroll provider.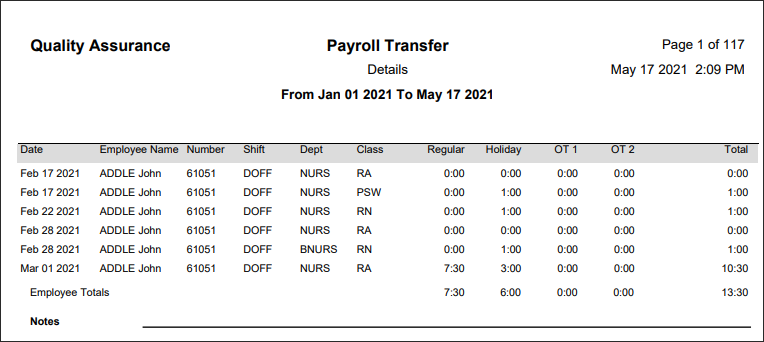 Punches by Clock Report
This report identifies the clock number an employee's punches were polled from and the times of the punches.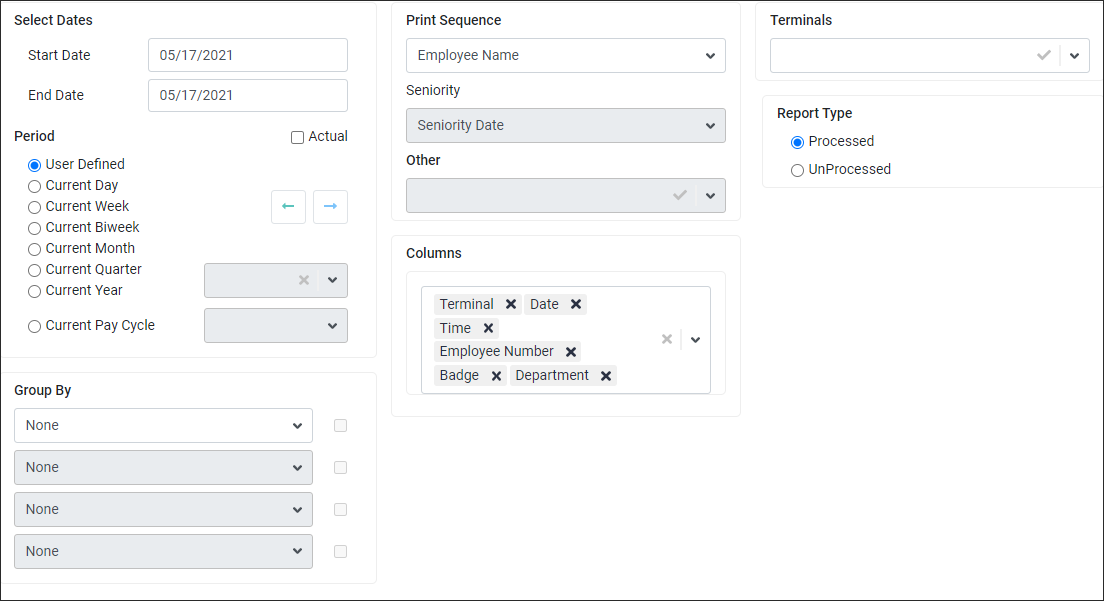 Time Analysis Report
Similar to the Payroll Transfer Report, this report uses User Defined columns, to view a pay period's hours only (no punches), but also allows you to group hours together by Day, Week, Month or Pay Cycle.
The report can be run by Home or Worked Dept., and in Detail or Summarized formats.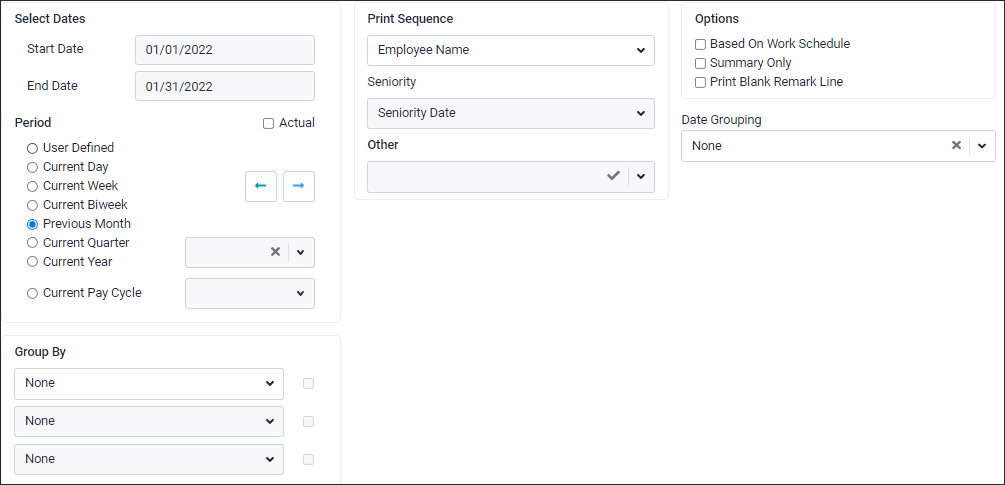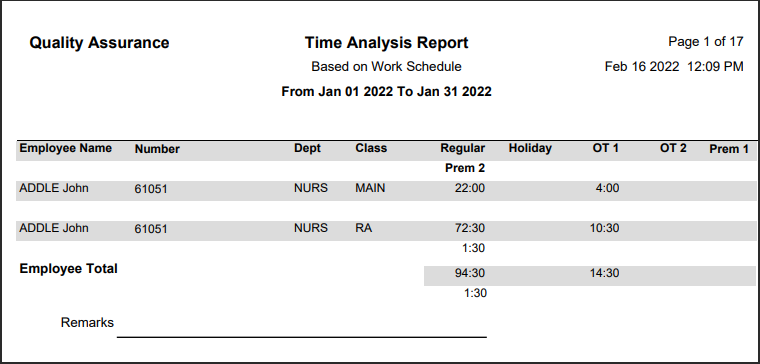 Time Card Report
Using User Defined columns, this report is a snap shot of the Time Card and can display up to six punches per day, along with Regular, Overtime and Premium hours only (no Attendance or Exception codes). You can also include ALL days in the interval (pay cycle) regardless of whether or not there is data on each day, and base the report on Home or Worked Dept.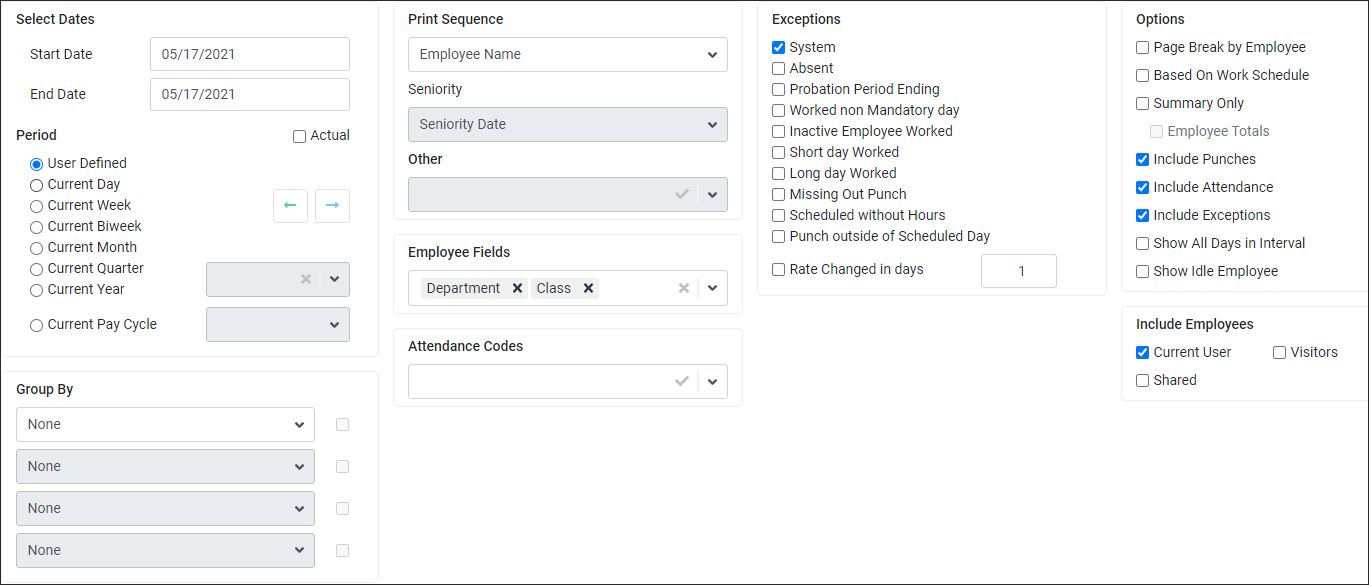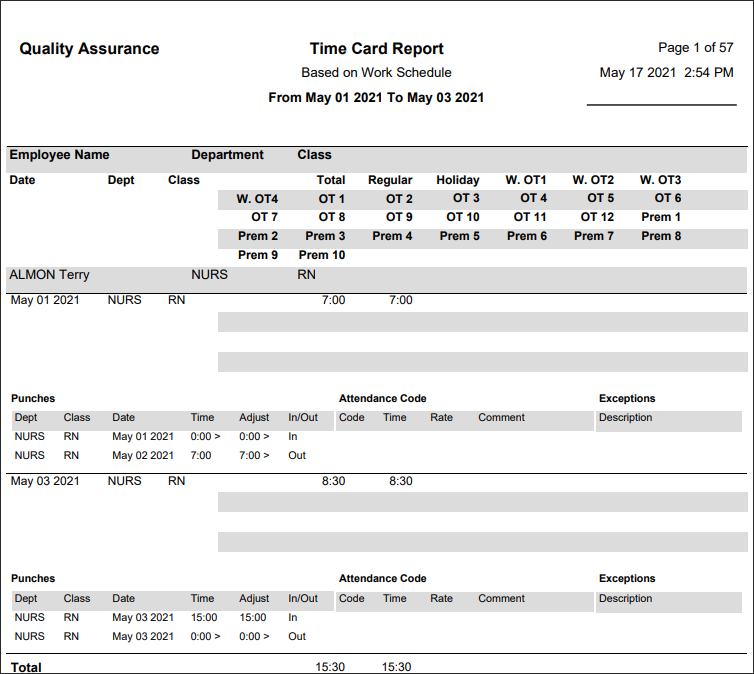 Time Earning Report
The Time Earnings report is the most popular and most useful of the systems time reports for payroll review. Like the majority of reports in the system the TE report allows for the definition of User Defined Columns.
This report lists employees' worked time for the selected period, and the detail of this report includes a breakdown of hours worked, type of hours paid (Regular, Overtime, Premium, etc.), miscellaneous hours paid (i.e., sick, vacation, etc.), and totals by employee, plant, and report. It can also include detail and summary by Department and Class depending on the print sequence you chose.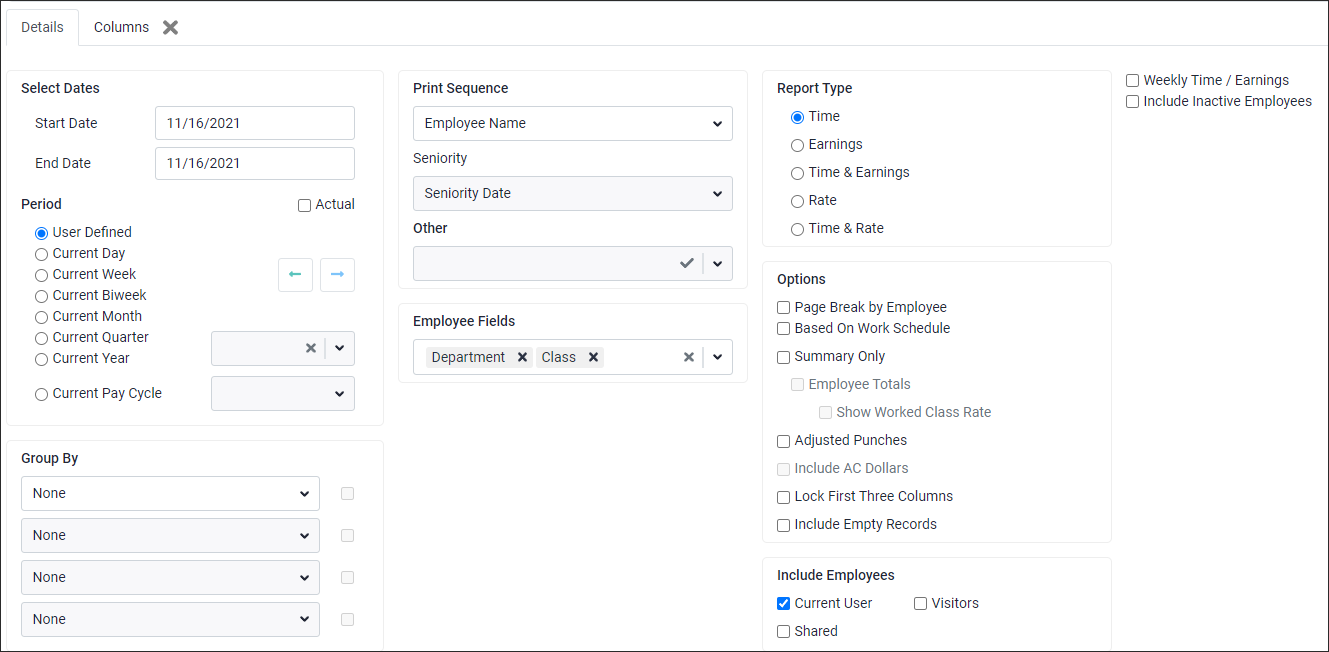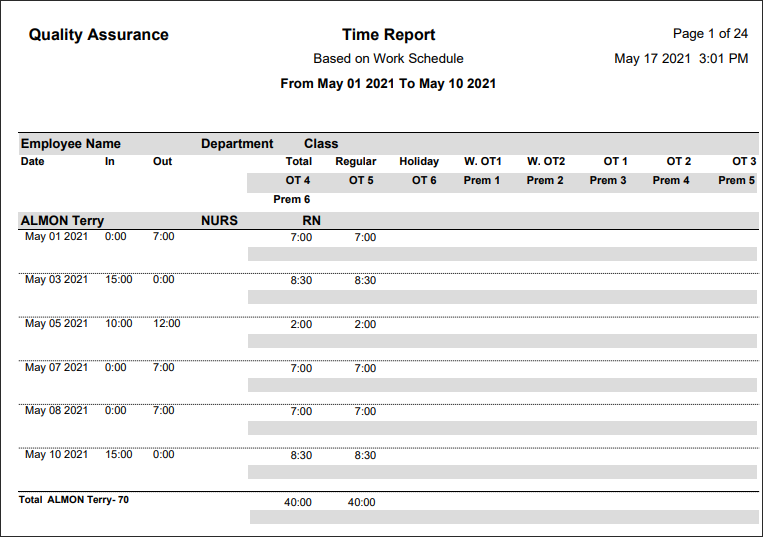 Include Inactive Employees Option
Use when all employees, even inactive, need to appear on the report for the time period set. Allows the report to catch employees that have hours but if the employees were made inactive in the middle of the pay period. Generally used when no filters are set on the Filter tab, or the report is filtered by Department/Class or any other large group. This option should not for specific employees. This option cannot be used if the Filter option Show/Include Inactive is being used.
Filter's Show/Include Inactive Employees option
This option is used when the manager wants to filter to specific employees, and they are inactive. For example: I want to filter to 5 employees, but one of them is inactive. Turning on the checkbox will allow for that employee's Last Name, First Name or Number to appear on the list to be selected. This option cannot be used if the Include Inactive Employees option is being used.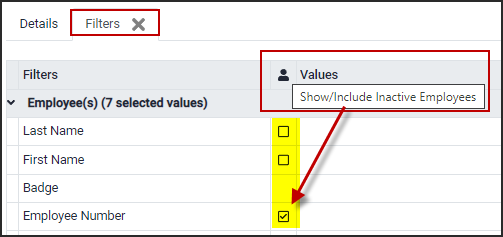 Time Export to Excel
You may filter the output using the Filter and Report Columns options (highlighted in yellow). Use Preview as Excel to create excel report.

Sample Excel output.

Transfer Report
The Transfer report will highlight hours worked during the selected time period that are in a facility, department, or class other than the employees home facility, department, or class.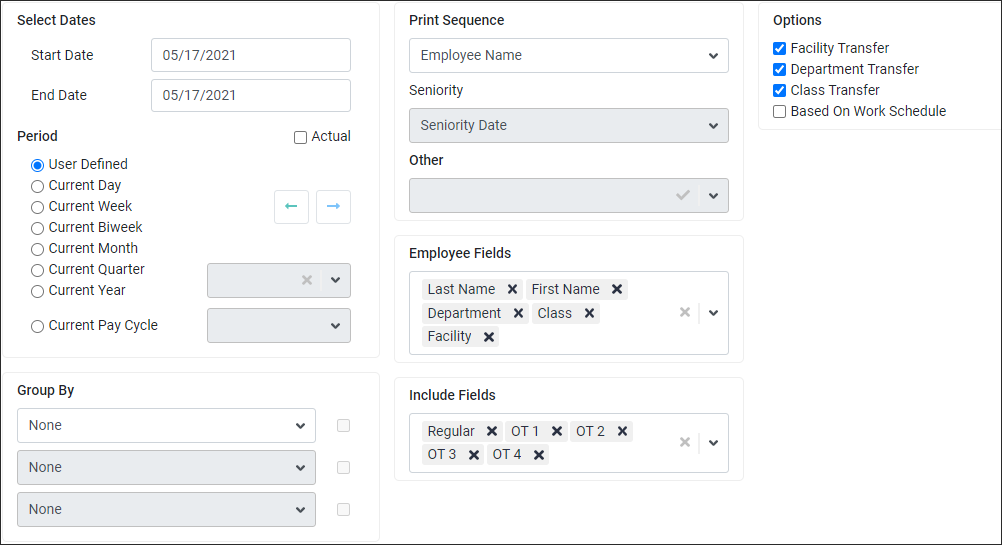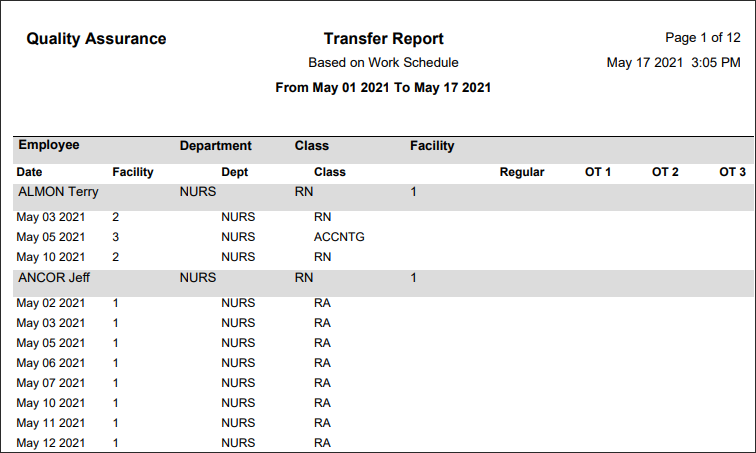 Unprocessed Punches Report
This report identifies unprocessed clock transactions and identifies why they were not processed, i.e., missing badge number in the transaction.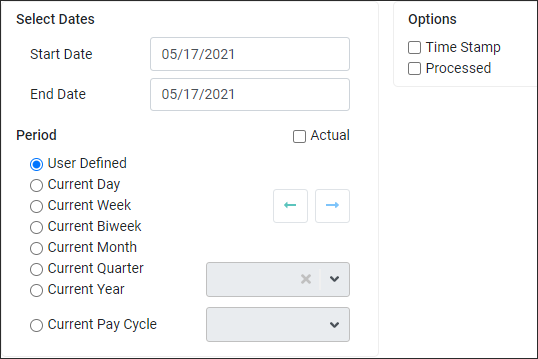 Vacation Pay Report
The vacation Pay Calculation report was designed to calculate an employee's average hourly rate of pay. When calculating this value, it looks at the following hours paid: Regular, Overtime, Holiday, and Premiums.
Vendor's Hours
Use this report for reporting the USA Government PBJ/CMS vendors during the reporting period.