Create a new employee in StaffScheduleCare and fill out the basic information as per your requirements.
The following employee information needs to be entered on the Employee Personnel Profile for SSC Payroll.
Complete the information required for each section of the Employee Personnel Profile shown.
Name and Address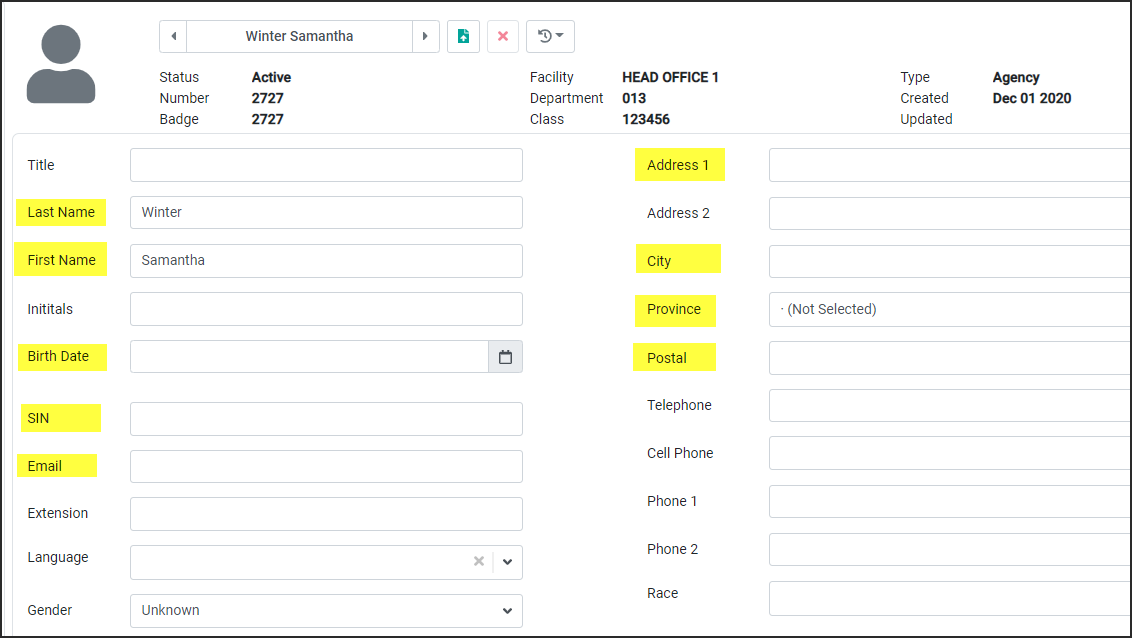 All fields highlighted must be populated.
Group Assignment: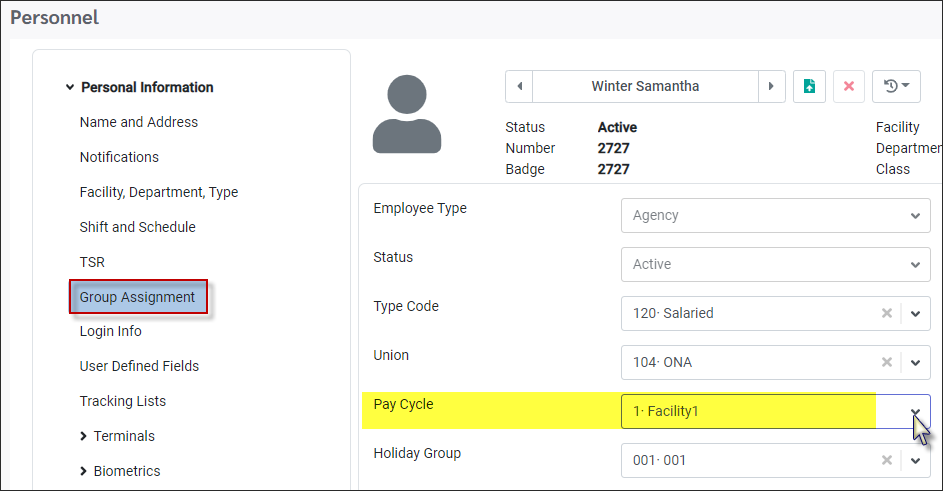 Select which RP group the employee will be in using the drop-down list in the Pay Cycle field.
- RP001 = Full Time
- RP002 = Part Time
- RP003 = Management
Benefits / Deductions
Fill out all the additional Earnings, Benefits and Deductions the employee is entitled to.
▪Click on the Plus icon to add a new line.
A new line will appear where you will use the drop-down box under the Code column to select the code to add.
(Note: the rule type will remain as a benefit until a code is selected and then saved. Once saved the rule type will change to the correct earning, benefit or deduction type.)
Benefit amounts will be entered under Company Portion.
Deduction amounts will be entered under Employee Portion.
If an employee is no longer entitled to a specific code do not delete the code. Instead, enter zeros under the company and employee portion columns.
This is the only way to confirm the code will not transfer any amounts for payroll.
Payroll Info / Payroll
Navigate to Payroll Info and select Payroll. This is where you will fill out the banking information for the employee. All fields highlighted need to be filled out correctly.
For Taxation Province, use the drop-down menu to select the province your facility is located in.
Please insure that the Direct Deposit box is ticked on. If this is not ticked on the employee will show up in the pay run as Cheque and not Direct Deposit.
If an employee has a custom or non-default tax credit amount you will need to tick on the Override Claims box. Once this is ticked on the greyed out fields below will become available to change.
Enter the amounts in the boxes. Make sure the Override Claims box remains ticked ON. Turning it off tells the system to use the default amounts even if you have entered custom values.
DO NOT fill out the PE EMPLOYEE NUMBER field. This field is automatically filled out during the employee's first payroll. Manually entering a number can cause several errors as PE automatically generates this number.
The employee profile is now complete and ready for payroll.