This feature allows a supervisor / scheduler to override the Mass Messaging to accept for an employee after the time period has expired.
In our example we are going to follow Henry Dassen. A text was sent to him at 11:30am.

Here you can see Mass Messaging has moved on to the next employee Chris Hain.

Henry Dassen calls in AFTER the 11:36am expiration time to accept the shift.

The supervisor can override the system:
▪Highlight the employee who has called in.
▪Click on Accept.

A message will appear noting that this offer is not waiting for the employee to respond.
Click Yes to continue.
The system will display a message to let you know the action is now waiting to be processed.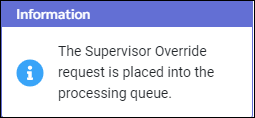 Henry Dassen's status changed to Booked. The Pencil icon indicates this was done with the Supervisor Override feature.
A message was sent to Henry confirming he is booked for the shift.